For many churches, attendance and giving have both been impacted by the COVID-19 pandemic. How should your church respond?
COVID Hits Churches Hard
The ongoing COVID-19 crisis has affected businesses and charitable organizations worldwide – especially and including churches.
The "Exploring the Pandemic Impact on Congregations" report from the Hartford Institute for Religion Research found a 12% decline in attendance from 2019 to 2021. That's the average decline; a third of churches surveyed reported a decline of 25% or more.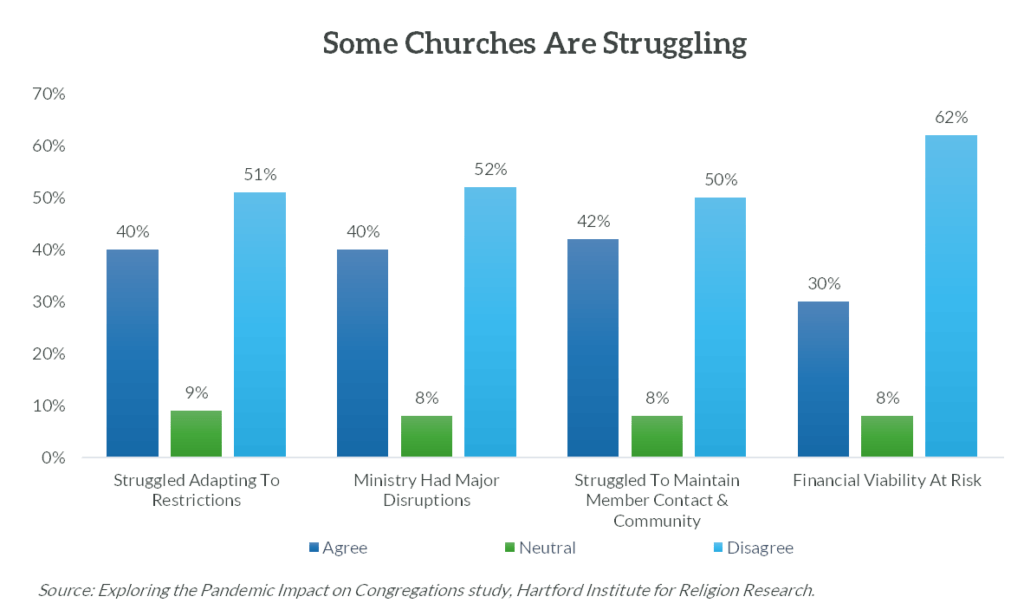 Some of this decline is due to the COVID-related deaths of church members. Other members remain cautious about contracting the virus and choose to remain home and, for some, participate in online services. Some of the lost members may return in person if and when COVID diminishes. Some are never coming back.
Due to this drop in in-person attendance, church giving has also suffered. According to the CapinCrouse consulting firm, 56% of churches experienced a decline in giving over the past two years. More than half of those registered a decline of 10% or more in their donations, with churches of all sizes being hit hard.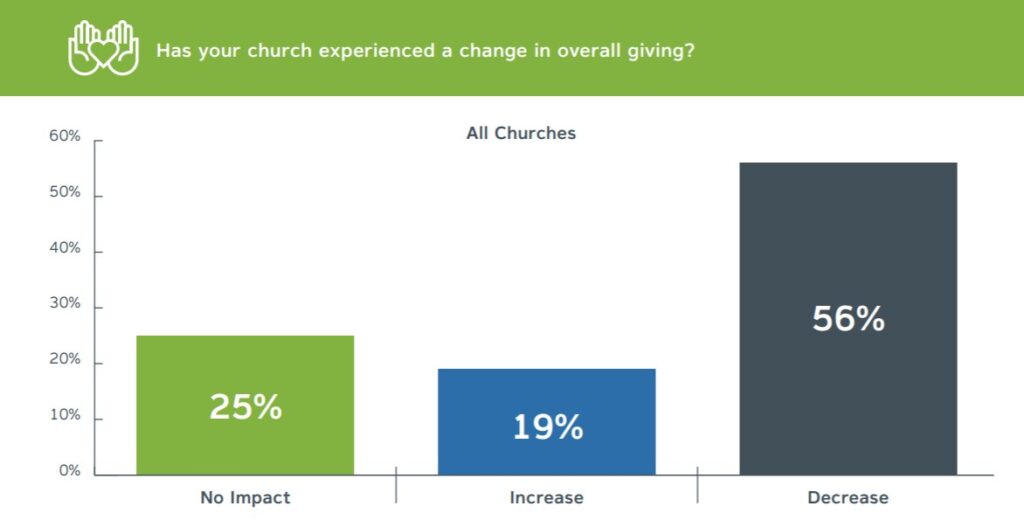 Strategies for Coping with Declines in Giving
If your church numbers are similarly down, how can you compensate? Here are ten approaches to consider.
Step Up Your Appeals
When giving is down, ask your regular donors to give more. Step up your appeals to the congregation and encourage recurring giving from all members. Personally reach out to your largest donors and see how they can help make up the decline.
Encourage Online and Text Giving
You want to make giving easier for all your members, especially those who've switched to your online services. Embrace online and text giving with a robust digital giving platform, such as GIVE BACK GATEWAY, that makes remote giving fast and easy.
Consolidate Worship Services
If attendance numbers are down you may need to reduce the number of worship services your church offers. One full service is better – and more resource-effective – than two half-full ones. If you currently offer a traditional and a contemporary service, consider combining them into a single blended service. If Saturday evening worship numbers are down, consider moving to Sunday-only services. The change may be painful to contemplate but could make more sense in regards to resource allocation.
Downsize Church Programs
You may need to consider downsizing some of the other programs your church offers. This means seriously examining the numbers for youth, children's, and seniors programs, as well as small groups and one-off events. You may not be able to continue doing everything your church has done in the past.
Partner with Neighboring Churches
Instead of cutting programs, consider partnering with neighboring churches to consolidate similar programming. You may not need to cut a dwindling youth program if you can combine it with a similar program from a church down the road. In times of trial, we're stronger together than separately.
Reconsider Your Mission
As your membership continues to change in the post-COVID world, it may be time to rethink your church's mission. Can you expand your focus to attract a larger audience – or narrow your focus to be more efficient in what you offer? Reinventing your church in a time of crisis may be a valid approach.
Think Local
In the past, many churches have supported missions outside their local areas, many outside the country. If your members' giving is down, you may need to decrease your church's external giving, as well. Painful as it might be, you may need to change your focus to be more local and, at least temporarily, cut back on external giving.
Rent Your Facilities
If you need to bring in additional funds, consider renting out your facilities on those days they're unused. There might be a smaller church nearby that needs a Sunday evening home or local groups willing to rent space on weekday evenings. Every little bit helps.
Revise Your Budget
The most obvious response to declining income is to reduce your expenses. Have a financial person go over your budget with a fine-tooth comb and see what you can cut. There's always something.
Cut Back Staff
For many churches, the worst-case scenario is cutting staff, but it may be necessary. If your donations are significantly down you may not be able to afford all the positions you did two years ago before the crisis. In lieu of completely laying off staff, consider moving some full timers to part-time status. Think about whether you can have volunteers fill some of the work done by current staff, especially for auxiliary programs. Cutting staff is painful but if times are really tough, it may be the only option available.
Bottom Line: When Times Change, You Need to Adapt
COVID-19 has been with use for more than two years now and the world may never return to the normal we used to know. When the world changes around you, you must adapt – which, for churches everywhere, requires some hard thinking and difficult decisions. Fortunately, there are always options, so make the best choices you can – and make sure your followers are part of the decision-making process.