It's important
Online giving is big and getting bigger. In the most recent year measured, more than $31 billion was given online to charitable institutions. Nearly two-thirds of all churchgoers are willing to give online to their church. And churches that accept online giving increase overall donations by 32%.
It's important for your church or nonprofit to offer online giving, so that your donors can give from the comfort of their own homes, using their computers, tablets, and smartphones. Online giving makes it easy for people to give – and the easier the process is, the more they will give.
It's easy for donors
With GIVE BACK GATEWAY, online giving is easy. All a donor has to do is follow these steps:
Access the giving page on your website.
Enter the amount of the donation.
Select the desired options, such as location/campus and campaign.
Enter payment information.
Click Submit.
That's it! Once they're set up in the system, future donations are even easier.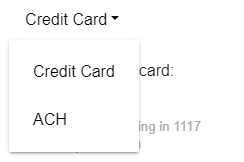 Multiple Payment Types
Donors can choose to give by credit card, debit card, or electronic bank (ACH) withdrawals. Donors can give on a one-time basis or set up recurring donations. Previous payment types are stored for future giving.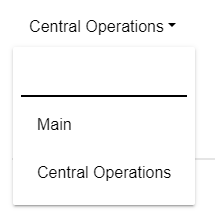 Multiple Locations
Set up your donation form to include multiple locations or campuses. Donors can select from the drop-down list and have donations go to that location.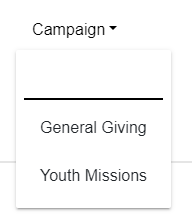 Multiple Campaigns
You can offer multiple campaigns or funds for giving. Donors select one or more campaigns from the drop-down list.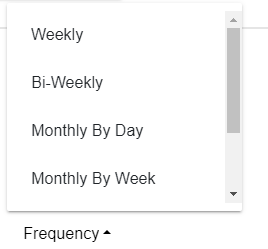 Recurring Donations
Regular donors can easily set up recurring giving so they don't have to go online every week. They set it up once and then giving occurs automatically, as scheduled. 
It's easy to manage
Donors have their own personal dashboards that show scheduled donations and how much they've previously given. They can easily enter and manage their personal profiles, including contact and payment information. Once everything is set up, initiating a donation is as easy as entering an amount and clicking Submit.
It lets you create a custom giving screen
GIVE BACK GATEWAY enables you to create a custom giving screen for your church or charity. Use your own logo and colors to make the screen fit in with your website. Donors will see a seamless giving experience. (You can also use our default giving screen, if you like.)
It's safe and secure
Your donors are concerned about their privacy and the security of their data. The Payment Card Industry Data Security Standard (PCI DSS) is a set of security standards designed to ensure that all companies that accept, process, store, or transmit credit card information maintain a secure environment. GIVE BACK GATEWAY meets all PCI DSS standards and ensures that you and your churchgoers are protected from credit card fraud. We keep your data safe.
It's easy for your staff
Your staff will appreciate how easy GIVE BACK GATEWAY makes it to process online donations. Setup is a breeze; everything is web-based, so there's no software to install on your system. Donations are automatically entered into the database and processed through the Higher Standards secure payment processing system. All donor information is available through easily accessed reports and integrated with your existing systems and software.
It's affordable
Every church and nonprofit is different, and we work with you to provide the lowest possible processing rates for your digital giving. We offer competitive and customized processing plans with pricing you can depend on.
It comes with expert support
GIVE BACK GATEWAY is offered and supported by Higher Standards, a leading nationwide payment processor. When you need assistance, we're there to help. We provide quality customer support from an experienced staff of payment processing experts. Your needs are handled by real people in real time.
With more than $2 billion in annual transactions, Higher Standards combines the stability of a large processor with the heart and soul of a small business. We've been providing personalized processing solutions for more than 15 years, and have more than 4,000 satisfied clients. That's the Higher Standards difference — payment solutions with integrity.