At Higher Standards, our primary focus is helping people
Because we are blessed, it is our goal to always be involved in the world around us and share our blessings with others
Our mission is simple – to reach out, touch lives, and make a difference
Who we are
GIVE BACK GATEWAY is offered and supported by Higher Standards, a nationwide payment processing company based in the Twin Cities area of Minnesota. Higher Standards was founded in 2001 by Dick Carbone, a veteran of the Minnesota restaurant industry. Dick, his co-owner Bill Ernst, and the entire Higher Standards team are committed to making a difference in the lives of those in need – both in our community and around the world. Being a family-owned company, one of our greatest passions is helping children and families. We support our local churches and nonprofits, and are product to offer GIVE BACK GATEWAY to those and similar organizations.
What we offer
Higher Standards offers payment processing solutions for all types of businesses and organizations, including churches, nonprofit organizations, traditional retailers, online retailers, restaurants, the healthcare industry, and business-to-business companies. This includes the processing of credit card, debit card, online, electronic check, and ACH payments, using traditional credit card terminals, POS systems, and virtual online gateways. Our merchant services are designed to exceed expectations and integrate seamlessly with existing business systems.
What makes us different from other processors
Higher Standards is dedicated to providing the highest level of customer service to all of our partners. With nearly $2 billion in annual transactions, we combine the stability of a large processor with the heart and soul of a small business. At Higher Standards, we care about relationships, not just transactions.
Look at the unique benefits we offer to all of our customers:
Higher standards. As our name implies, Higher Standards are what we believe in, reflected in both our business practices and our involvement in the community. As a family-owned business, we are committed to making a difference in the lives of those in need – both in our community and around the world. We're more than just a payment processing company. Because we are blessed, it is our goal to always be involved in the world around us and share our blessings with others.
Higher giving. Our GIVE BACK GATEWAY is designed especially for churches and nonprofit organizations. In addition, our unique GIVE BACK program lets any business donate a portion of their transaction fees to the church or charity of their choice.
Higher service. When you need help, we respond – personally. No endless phone trees and voice mails here. Our team has a combined total of more than 100 years' experience in merchant service; we answer when you call and we solve your problems.
Higher performance. Our digital giving solutions make all transactions quick and easy. Custom reports help you better manage your giving.
Higher trust. We run our business for you. Our rates and fees are guaranteed, and there are no termination fees. If you don't like our service, you're not stuck in a long-term contract.
Higher professionalism. We hire sales professionals and customer support people that not only understand our standards, but live by them each day. Our sales training program for new professionals, as well as those with more experience, is an on-going process. We believe in keeping a step ahead of the trends, new technology and consultative services.
A Message of Hope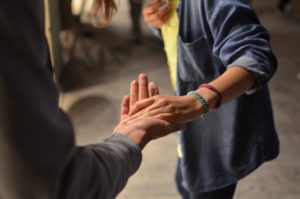 With all the chaos in the world, there is hope. Whether you are concerned for the starving children across the globe or you simply feel unloved, there is hope. 
My prayer for you is that you consider having Jesus Christ in your life. If you are hopeless and you think it cannot get any better, there really is a higher power that can help.  There is a message that has been preached for two thousand years; the message of salvation. Jesus laid down his life, the ultimate sacrifice, so that you and I could live! You can take the step of asking Jesus to forgive you of your sins and ask Him to come into your heart and be Lord of your life.
I know this may sound simple and maybe you are asking yourself, "Will this really help?" My answer is YES. Does this mean everything is going to be wonderful and perfect? No, but you will have a closeness with God like you have never had in your life and you'll experience true love. Let me ask you a question… If you die today, do you know where you are going to spend eternity? Have you ever wondered why you were put on this earth? Just suppose you were put here for one reason- to choose life or death.
Please understand this is not a hell fire and damnation message. It is very simple. God loves you and he wants to spend forever with you. You can only do this one way.
Jesus says, "I am the WAY, the TRUTH and the LIFE. No one comes to the Father except through me." Do you know of any other person that has ever made a statement like that? I pray you consider a personal relationship with Jesus. It will completely change your life.
I wish you well and may God Bless You!
Dick Carbone
CEO/Founder, Higher Standards
Higher Standards: We want to be your digital giving partner
From the inception of Higher Standards, our core belief has been, and continues to be, to provide the highest level of customer service to our customers and partners. Due to our high level of service, Higher Standards has one of the lowest attrition rates in the industry. Our customers stay with us because we deliver what they need with excellent support.
Higher Standards understands the busy nature of managing a church or nonprofit organization. We invite you to click the Contact Us button to schedule an appointment to discuss your digital giving needs needs.
On behalf of the Higher Standards organization, we look forward to becoming your preferred digital giving provider.